12 Impressive Products For Your Home Bar
Please note: The Caveman's Guide is mostly reader supported. 
If you buy through links on our site, we may earn an affiliate commission.
12 Impressive Products
 For Your Home Bar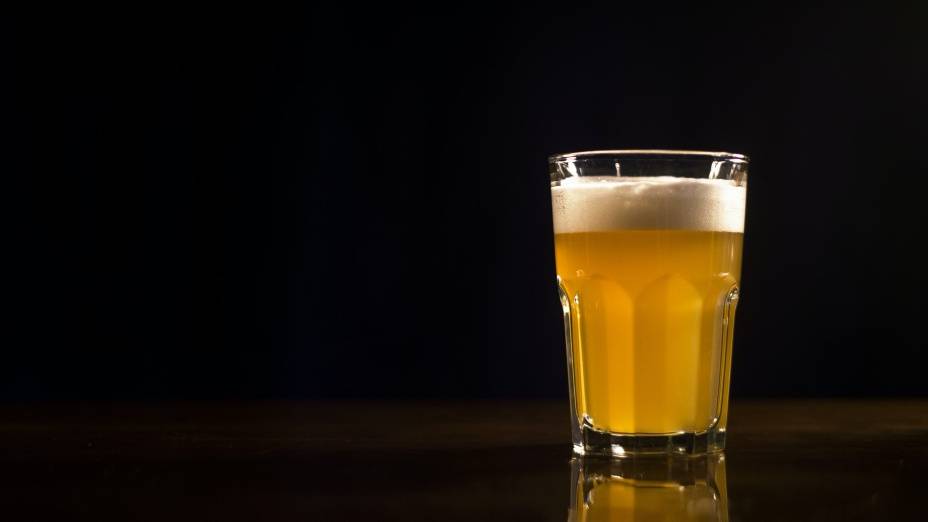 Make all your guests do a double take with these 12 impressive products for your home bar. From luxury car coasters to a baseball bat decanter, we have something for all.
#1 M16 Gun Whiskey Decanter Set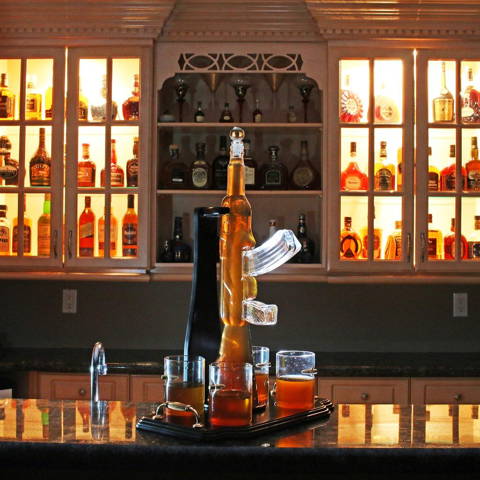 This elegant decanter set takes your home bar to the next level. It will be the beginning of many conversations as your guests gravitate towards the decanter in awe of its beauty and novelty. As if the M16 gun was not bold enough, it comes with beautiful bullet glasses. An exquisite decoration piece that will bring your bar to life. Perfect for vodka, hennessy, cognac, tequila, wine, cocktails, bourbon glasses, scotch glasses, etc.
Each of these exclusive handmade car coasters are individually enameled in the appropriate logo colors, and has a glossy, high-end finish. These luxurious collectible coasters are packaged in a genuine suede pouch and include a polishing cloth. A perfect gift for the exotic car enthusiast in your life.
Available @ Touch Of Modern
#3 Original Stormtrooper Decanter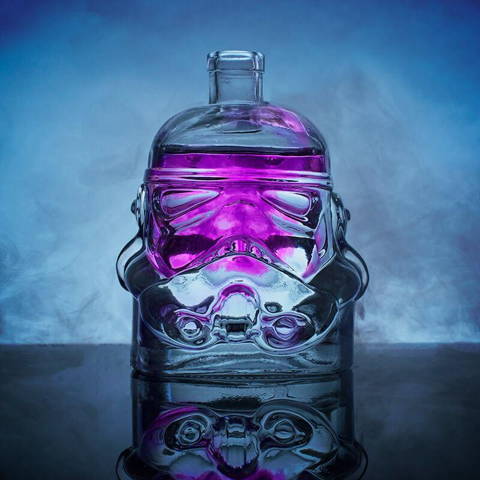 This Star Wars Stormtrooper Decanter will let you toast to the Dark Side! Based on the original Stormtrooper helmets designed by Andrew Ainsworth of Shepperton studios in 1976, the high quality decanter, will provide a great talking point while holding anything from wine, vodka or rum. This is a high quality and stylish product that will make your drink collection even cooler by adding a twist of star wars to it!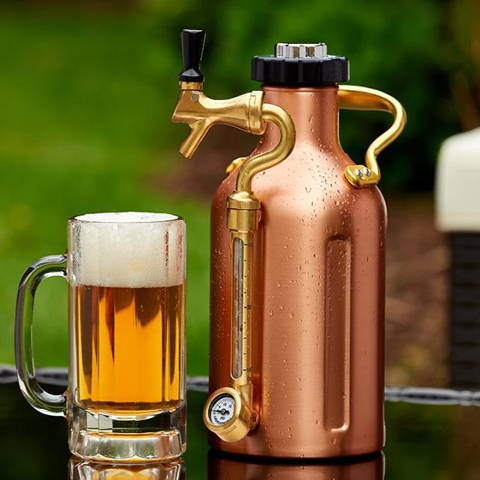 The Pressurized Growler stores beer and keeps it cold until you're ready to indulge. Simply adjust the pressure cap, fill the keg with your favorite beer, dispense and enjoy! Holds up to 64 oz. of beer. Store it in your fridge, then take it to your next BBQ or tailgate! 
Available @ The Sharper Image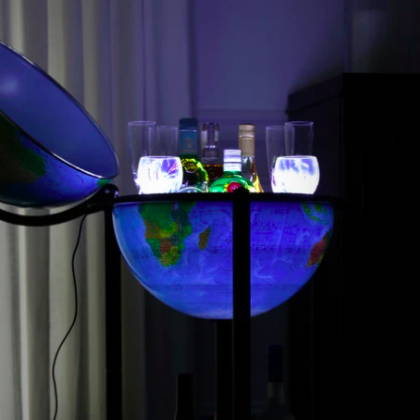 This beautiful stand and globe ball offers the perfect modern look for any room. The Empire Bar Globe sets itself apart from other bar globes in many ways. It has an up to date politically correct map that is illuminated by safe and reliable LED lights. The illuminated blue ocean globe perfectly highlights and accentuates the contemporary styling of the dark gray stand. When you open the northern hemisphere you will discover a spacious drink cabinet that allows you to store a diverse number of spirit bottles and glasses.
#6 Ice Cold Beer On Tap LED Bar Sign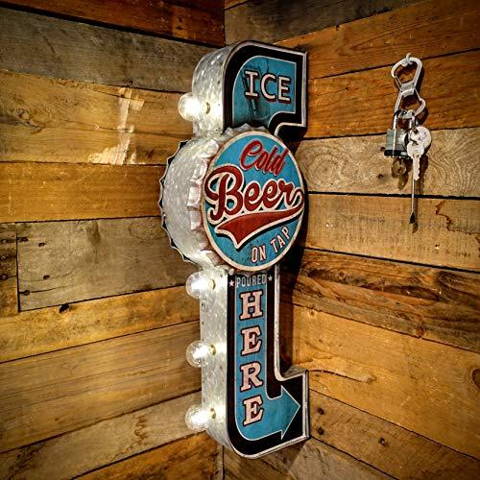 A bold beer sign that lets everyone know where the party is at! This Ice Cold Beer On Tap sign can look great displayed in either the home bar or in dad's man cave. The distressed design and marquee style light bulbs give the impression that this sign is vintage and may have been pulled out of grandpa's garage 50 years ago!
#7 Colorful Champagne Glass Set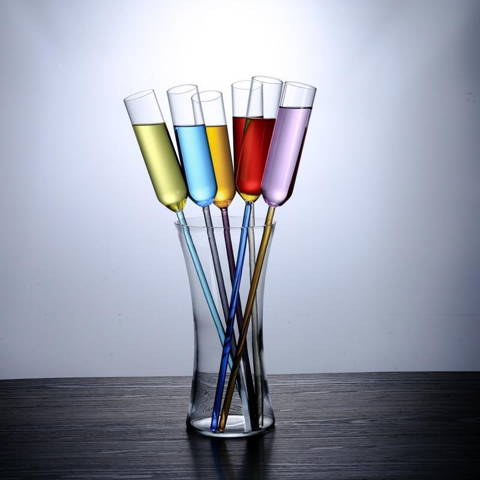 Pour your favorite bubbly into one of these colorful champagne glasses and enjoy your night. Drink from a beautiful yet durable glass that can showcase both your red and white wines. No more fears of breaking your precious glassware! These glasses are not too thick yet strong enough to stand daily washing. Each order includes a base and six glasses.
Available @ It's Okay To Be Weird
#8 Bottle Wine Display Rack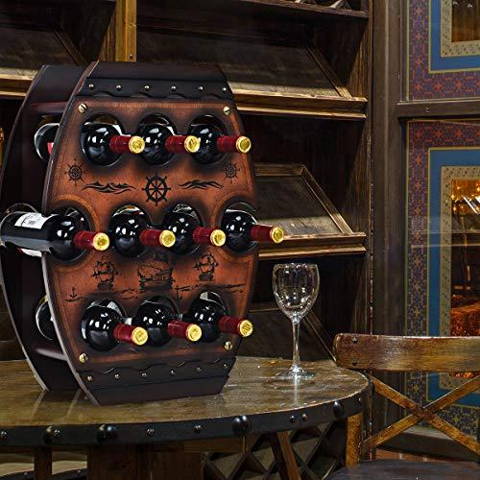 This 10 Bottle Wine Display Rack can keep your wine fresh a longer time! It can hold 10 bottles at a time and with its durable MDF material and heavy-duty iron nails, it can firmly stand on any platform without wobble. This wine rack is a good space saver that satisfies the aesthetic requirements of the room and keeps the wine fresh for a long time. 
#9 Horn Shaped Beer Glass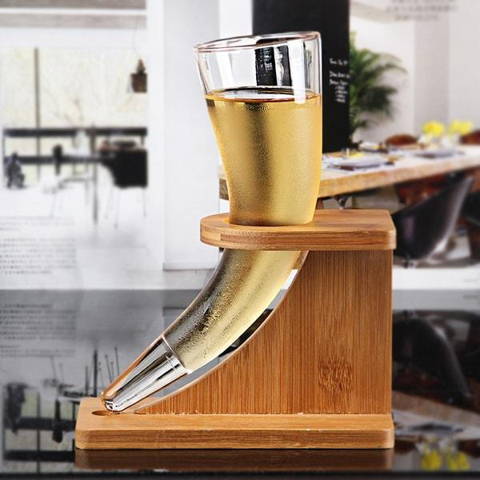 Modern drinking is overrated, sip like the vikings did with this horn style glass! This unique viking horn glass takes the tradition of drinking from a buffalo or ox horn and gives it a new, modern twist. It features a Eco-friendly bamboo stand. This product is great for beers, cocktails & even water and will make an awesome addition to your home bar!
Available @ The Apollo Box
#10 Adjustable Height Bicycle Bar Stool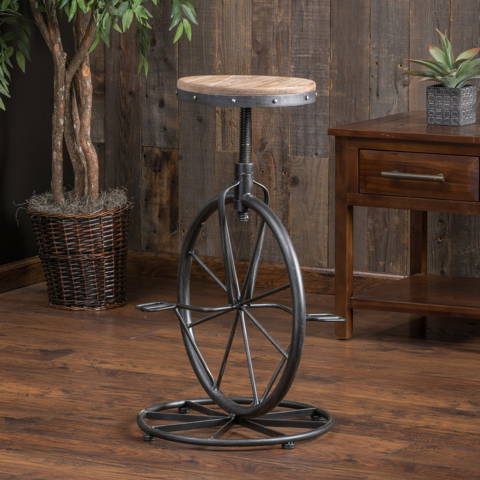 For a whimsical touch to any room, add the Charles Adjustable Height Bar Stool. Complete with bicycle pedals, wheel, and weathered fir wood seat, the decorative possibilities are endless.
#11 Baseball Bat Whiskey Decanter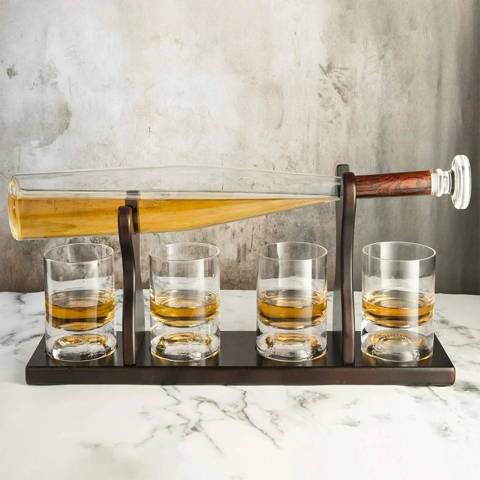 Whatever team you root for, this is the perfect Whiskey decanter for you. This is a limited Edition Large Baseball Decanter Bat and 4 Baseball Whiskey Glasses. The bat and glasses have many intricate parts and is exceptionally unique in design. Give it as the perfect gift. It will forever be displayed and you'll be remembered. It's a piece everyone will be talking about!
#12 Premium Cocktail and Margarita Machine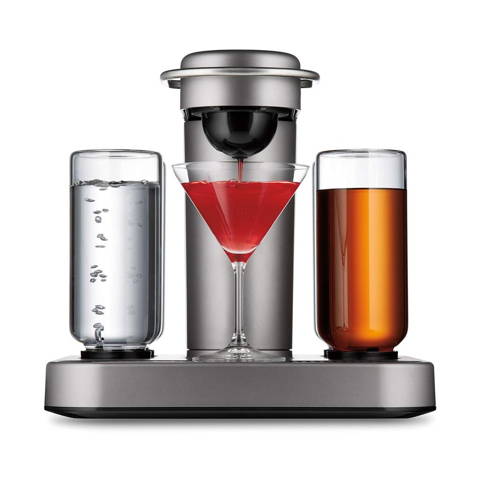 Create endless craft cocktails in the comfort of home — no need to measure or pour. Just insert a cocktail capsule into your Bartesian machine, select your preferred strength and press mix. The system draws the spirit from the appropriate reservoir and mixes your cocktail in seconds.
Check Out These Other Awesome 
Products For Your Bar